Elixir "Winter shield" for immunity in winter time. Many people catch a cold during cold season. This is considered to be a period of illness, depression and mood swings. The formula has been designed to resist stress, intensively reinforce and strengthen the immune system, provide an intense dose of vitamins and energy extracts, liquefy the blood and discharge harmful substances from the body.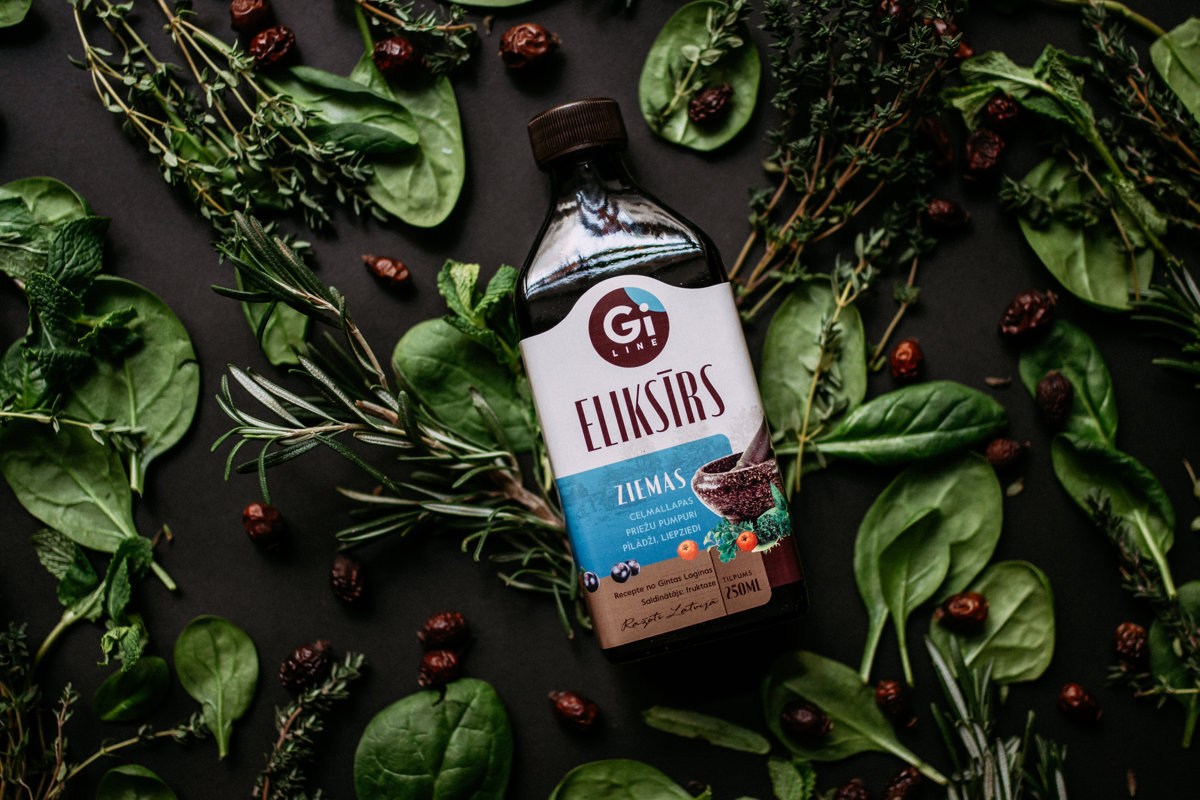 Ingredients: carrot; pot marigold flowers; greater plantain leaves; pine buds; rowanberries; rose hip; black elder fruits; linden flowers; ginger; black pepper; orange; clove flower buds; cardamon seeds; apples peels; juices of cranberry, quince, blackcurrant and lingonberry, C vitamin, fructose, pectin.
Broadleaf plantain – typical anti-inflammatory, bactericidal effects, as well as bleeding and curative effects.
Rowan – a great source of vitamins, saturated with fibre and essential oils. It strengthens immunity, prevents malaria, strengthens blood vessels, promotes the digestive tract, as well as promotes the purification of the body.
Linden hair – an option for the health of the respiratory system, helps a healthy sleeping, immune system, has antioxidant properties. Lime blossoms act both as a sedative and as a stimulant, relieve headaches, indigestion, diarrhoea. Used to calm heightened irritability. It strengthens immunity, promotes sweat and urine output.
Carrot – an excellent tool for cardiovascular disease prevention. Antioxidants in the body help reduce the risk of malignant tumours, normalize liver, pancreas, kidneys, thyroid gland, improve vision, and help fight against viruses.
Marigold – used to strengthen blood vessel walls. Soothing, bactericidal, sweaty, urine-stimulating.
Dog rose – stabilizes the amount of adrenaline in the body, reduces the amount of cholesterol, promotes tissue renewal and helps with inflammation. A great tool for treating infectious diseases, kidney damage, strengthening your heart, nerves and immunity.
Elderberry – anthocyanins that are found in black elderberry berries are the most powerful naturally occurring antioxidants that work to protect the body's cells from potential free radical damage and stimulate the body's immune system. Stimulates the body's cleansing, reduces cholesterol, improves eyesight and heart health. Typical anti-inflammatory, sedative suppository-stimulating effects, as well as contributing to the removal of excess fluid from the body that stimulates body weight loss.
Ginger – strengthens immunity, is effective against cold symptoms, is used to treat bronchial asthma, reduces cholesterol in the blood, relieves muscle pain and joint pain, stimulates the thyroid gland, reduces arterial pressure, eliminates seizures during critical days and helps with most of the other faults and illnesses. Ginger is also an effective remedy for slimming. It can stimulate and accelerate metabolic processes as well as eliminate gastric toxins. Ginger helps stimulate blood circulation, improves sexual desire, eliminates nausea.
Orange – reduces the amount of cholesterol in the blood, prevents cancer cells from forming. Increases immunity and destroys germs. Helps to eliminate bad cholesterol, heavy metals and toxins from the body. Oranges are recommended for avitaminosis, exhaustion, increased nervousness, bad mood, and people with atherosclerosis, hypertension, obesity, digestive tract disorders, cardiovascular diseases, and oncological diseases and the prevention of influenza.
Apple - to be used in cases of cardiovascular and digestive system disorders, for the body to purify, strengthen.
Cranberry juice – normalizes blood cholesterol, prevents skin-aging processes, normalizes high blood pressure, and helps the body in the fight against microbes. An effective remedy for urinary tract infections. Prevents the formation of malignant tumors.
Quince juice – promotes digestion and improves metabolism. Greatly strengthens immunity, helps with respiratory diseases, delusions. Possesses a general, soothing, tangential, antiseptic effect. Reduces the risk of developing malnutrition.
Black currant juice – an excellent anti-inflammatory, metabolic-regulating, sweetening agent. Enhances immunity.

Lingonberries – helps reduce inflammation, replace antioxidants, replenish blood with red blood cells and increase liver enzymes.